2020 Genesis G90 in Stephenville Granbury Fort Worth TX Dealer.
Mike Brown Genesis of Granbury is the Dealership near me to get the best deals on the 2020 Genesis G90.
How much does a new 2020 Genesis G90 cost?
Starting Price MSRP Is Only:
$72,200!*
2020 Genesis G90 in Stephenville Granbury Fort Worth TX for sale today serving Weatherford TX is the Flagship of the Genesis brand. This big body, full-sized sedan is designed and built for maximum comfort in both front and back seats; actual more-so for the backseat passenger! This is the kind of car people want to be chauffeured around in all day. We will get to the details later in the page where we have the interior broken down into two sections, front and backseats. What makes this car the flagship though is not that is has a ton of room inside, it is that it is truly best in class! Compare this car to the other flagships in the segment and you will see there is a clear winner at a much lower price than the others! Who are the competitors of the Genesis G90?

Mercedes-Benz S-Class
BMW 7-Series

Audi A8
Lexus LS
Cadillac CT6

Why do we tell you the competition? Easy, because there really is no competition once you look! For example, the only way to get everything this car has in the Mercedes Benz S-CLASS, you have to add in equipment that puts the price over $140,000!!! That is twice the cost of the G90 just to get the same equipment??? Obviously, that don't make any sense to spend that much more for a car just to get all the things this car has it its much lower cost. Look at any car on the list that is the "competitor" of the G90 and after you add in all the necessary equipment to be comparable, it gets ridiculous to choose anything but the G90! So what does the G90 have that is standard and you have to upgrade all the others? Glad you asked! Continue down this page to find that out.
2020 Genesis G90 in Stephenville Granbury Fort Worth TX serving Weatherford TX
first and foremost is a dream car to drive. From all sizes of people, any and everyone would love to drive this car. The seats are insanely comfortable, the steering is solid and smooth, the amount of equipment, features, and benefits are extensive, and everyone will be looking at you drive by in your sweet new ride. There is plenty of travel from front to back so anyone fits in the seat as well as up and down. Multiple controls are at your fingertips on the wheel for safety, and both the center screen and instrument screen are very crisp clear pictures giving you truly premium look and feel. Push the pedal down, feel the power, and glide across the road as if you are on a cloud that no unsmooth surfaces exist on! This amazing car takes driving to a whole new plan of existence where you can enjoy the experience like never ever before.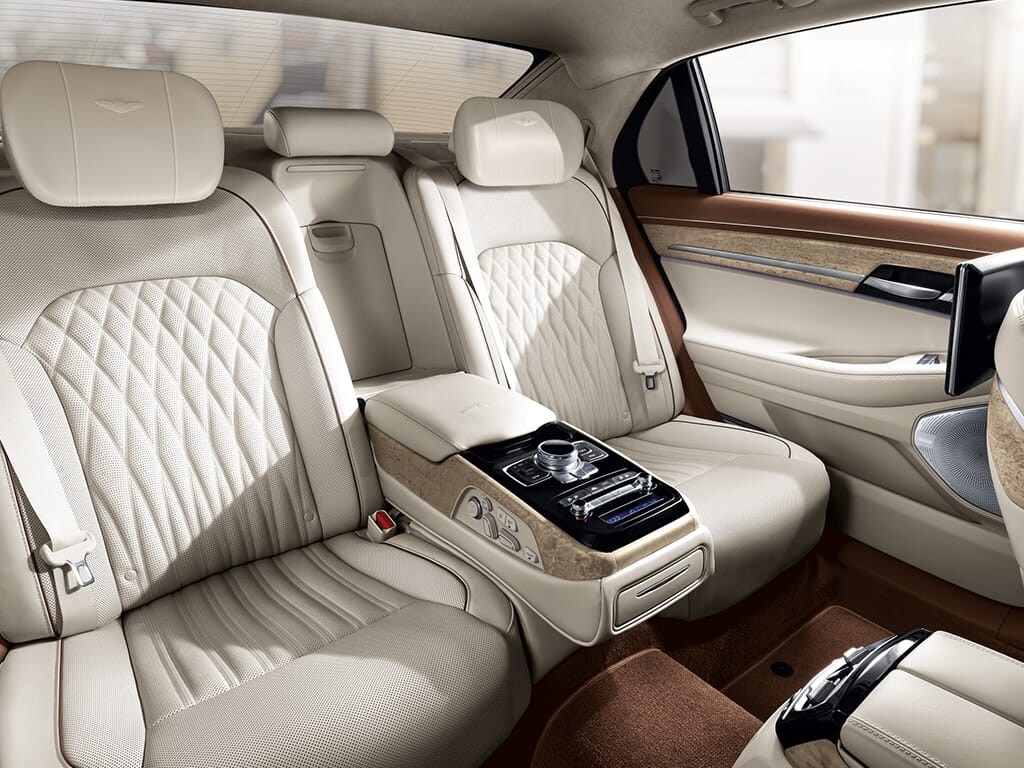 2020 Genesis G90 in Stephenville Granbury Fort Worth TX serving Weatherford TX has a backseat built for the ultimate passenger experience. Power shades come up from the rear and sides for increased privacy, the seats move and recline to an impressive extent, and if you need more room (which is doubtful) you can actually take over the front passenger seat and move it from controls in the back to give yourself even more legroom to really stretch out. As you can see int he image above there are tons of controls on the center arm rest, that is because as the rear passenger you have control over all features of the vehicle! There is superior ventilation throughout the cabin with multi-zone controls, and a top-tier sound system that will blow your mind. You want to feel like the president being driven around town in style? This is the car that will give you that celebrity feel!
Exterior of 2020 Genesis G90 in Stephenville Granbury Fort Worth TX serving Weatherford TX is just an impressive as the interior when it comes to what you are looking for in a luxury car. This Premium vehicle is big, but not bulky! Full LED lighting elements for all lighting systems, powerful wheel designs, bold front end, and nothing but high-class fit and finish. Because this is a new design, you will get onlookers from all facets asking "what kind of car is that?" and you can proudly exclaim it is the flagship of the Premium Luxury Brand known as Genesis!

2020 Genesis G90 in Stephenville Granbury Fort Worth TX serving Weatherford TX as mentioned before comes fully equipped. The list above is all the standard equipment, that is right all of that is STANDARD! Again, as mentioned before, feel free to pick any "competitor" and build it up to the standard features of this car and you will quickly see that they simply are overpriced when it comes to value. No one can come close to the incredible Genesis G90 when it comes to level of equipment for the price. Why pay $20,000, $40,000, $60,000, or over $70,000 MORE for another car just to get all these features, benefits, and equipment in the G90 without spending that excess? It simply dont make sense when you can get all this AND Americas best warranty all wrapped up into one incredible package with the 2020 Genesis G90.

2020 Genesis G90 in Stephenville Granbury Fort Worth TX serving Weatherford TX has 2 trims to pick from. The entry level is the 3.3T  that comes with a 3.3L TT (Twin-Turbocharged) V6 and the upper trim is the 5.0 that comes equipped with a 5.0L V8; both versions have an AWD (all Wheel Drive) version available. This car pretty much comes with everything with just a few stand alone options. This is the executive car, a real high line vehicle that only cars which hit over 100,000 can truly even start to compete with. Save money but don't sacrifice your equipment or settle on your car, get the G90 today and save up to over $70,000!!!

Check out this link to see how it compares to the BMW in an impartial comparison from KBB!
*Prices and details may change at any moment without notice.  This page is for information purposes only and dealer is not responsible for any inaccuracies. See dealer for most current, up-to-date information and details.